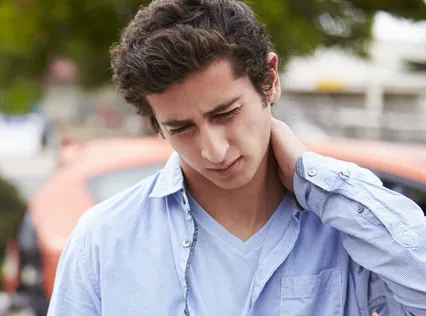 Call Back to Health Chiropractic Center to Relieve Your Pain
Are you dealing with the painful effects of whiplash after a vehicle accident in the Findlay, Ohio area? Is your whiplash so painful that daily activities cannot be accomplished? Maybe your whiplash is mild enough that it hurts a little bit, and it is hard to turn your head from one side to the other. Whatever the severity of your whiplash, do not put up with the lingering effects any longer than you have to.
Call Back To Health Chiropractic Center in Findlay, OH, at (419) 420-1555 to make an appointment and get back to feeling better.
Causes of Whiplash Include:
VEHICLE ACCIDENT

ASSAULT

FOOTBALL

FALLS

OTHER HIGH IMPACT ACTIVITIES
Symptoms of Whiplash
Those suffering from whiplash, which often happens when the patient's vehicle gets hit from behind, might complain of pain and stiffness in the neck. The neck pain can range anywhere from mild, to pins-and-needles, to debilitating. Other symptoms can include reduced range of motion in the neck, shoulder pain, upper back pain, headaches, tingling, weakness, or the feeling of numbness that can extend to other areas of the body.
Range of Treatments for Whiplash Available
Back To Health Chiropractic Center can work with you to give you relief from the pain and discomfort of whiplash. Our drug-free treatment for whiplash can vary, depending on the severity of the case. Treatment can range from chiropractic adjustments, massage therapy, physical therapy, muscle relaxation, muscle stimulation, and McKenzie exercises, which are initially done in our office but can be taught for you to use at home.
Tailoring a Plan Just for You
The recovery from whiplash can last for months, or longer in some cases. You can trust that we want to rid you of your pain, and we might try a variety of techniques to do that. We are trained to treat whiplash symptoms, and we will tailor a plan just for you. If you live in the Ohio counties of Hancock, Seneca, and Wyandot, and you want to try a drug-free approach, contact us today!